Mirror KB's Twin Wranglers
We, Kim and Kari, are the Twin Wranglers - identical twin sisters. In our younger years telling us apart was a bit more difficult than it is now...the years have some how "creased" us differently. Still we look quite a bit a like. However, there are differences that did exist right from day one. Kim - the A twin is right handed, Kari - B twin is left handed, or more accurately, ambidextrous. For this reason we have always considered ourselves Mirror Image Twins and thus giving rise to our ranch name "Mirror KB".
Twin-ship is one of the closest partnerships that exists in the world. For us this means a lifelong collaboration of identical interests (horses and the love of all animals, photography, horses, ranchin', the old west, nature, and more horses).
We've been ridin' horses since we were no bigger 'n a couple of hay seeds. When we were 9 years old we finally managed to coerce our parents into gettin' us our first horse. Up until that point we rode our best friend's horses and have to admit that we had some pretty amazin' spills. But we survived, and after we got our first horse we soon found that just one horse wasn't good enough. We had to have more which led to us gettin' a second mount the followin' year and that led to a third and fourth horse, and so on. After many years of breeding Appaloosas, we no longer raise horses but we still ride and have 9 head in our remuda....and to this day we can't resist pickin' up a rope if there's a horse attached to the other end of it.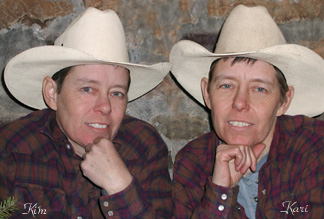 The Twin Wranglers, Kim and Kari
Though it's been quite awhile since we've entered the show arena, in the past we've successfully campaigned our horses in the show ring...including qualifying two of our mares (Tacita Trio & MKB Roamin' Echo) to the Appaloosa World Championship Show.
Kim shares her showing strategy with Kari (1978)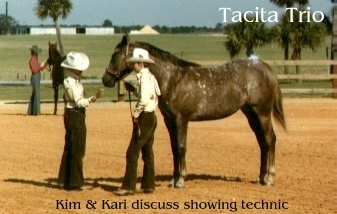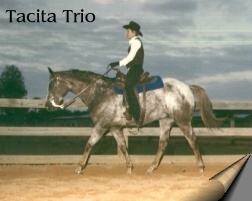 This is Kari showing Tacita Trio in Western Pleasure (1980)


Ranch work keeps us busier than a horse's tail in fly season! Though we're a might short for tall and notably slight on brawn, we take on all of the ranch chores ourselves. Besides training the young horses, and providing general horse care - including minor veterinary attention, we also take care of trimming hooves. Keep in mind, that's usually around 56 hoofs!

That's Kim trimming Southern Bulletta.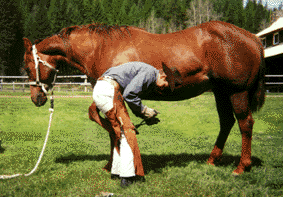 If you enjoy trail riding or just lookin' at pictures of horses and beautiful country then rein your mount down this side trail.
Now, don't think that all we do is horse 'round. It may be close to the truth, but we do tend to regular feedin' chores as well as ridin' ranch fences, cuttin' lodgepole fence rails, puttin' hay in the barn, and stockin' up on each winter's supply of firewood does one heck of a job keepin' us from wearin' out our saddles.


Unfortunately ranching isn't really all to productive and we seem to have perpetual holes in our pockets. So, we manage to supplement the lack of cash flow with our cameras and by authoring equine related articles. Our photos, and often our articles, are regularly published in magazines such as: Horse Illustrated, Horses USA, Quarter Horses USA, The Horse, Hobby Farms, The Blood Horse and Equus. Our work has also appeared in, Performance Horse, Pegasus Equine Express, Montana Horseman's Journal, Stable Kids, The Horseman's Guide, The Texas Thoroughbred, Horse & Rider, Equine Athlete, The Western Horse, Western Horseman, Cat Fancy, Cats Magazine, The Morris Report and International Photographer.
Our original photographic double image montages are exhibited in fine art shows across the country. Below is a small sampling of shows and awards:
"1995 Winter Works" Steamboat Springs Arts Council (1st Place photo - "Vanquished")
"Tribal & Western Art of the Plains" Oscar Howe Art Center, Mitchell, SD (Merit Award - Spirit of the west")
"The Camera's Eye" Museum of NW Colorado (Merit Award - "Ghost of the Rockies")
Armory Art Center, Art of Photography Exhibition, West Palm Beach, FL (2nd Place non-traditional Photography - "Maternal Vigilance")
Caprock Photographers 11th Annual Fall Exhibit, Caprock, TX (2nd Place - "Ghost of the Rockies", Honorable Mention - "Tatanka")
"Shadows of the Past" Art Auction, Choteau, MT (Best Photo - "End of an Era")
"Imagination Comes To Life" Somerville, NJ (Honorable Mention - Cuttin' 'em Out")
"Shared Visions" Clymer Art Museum, Ellensburg, WA (Special showing of 14 photo montages)
"Images of Equus" The Hunter and Gatherer Gallery, Kalama, WA (2nd Place - "Precious Moment" and 5TH Place - "Autumn Splendor"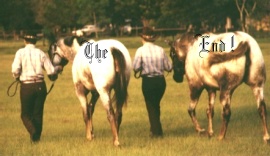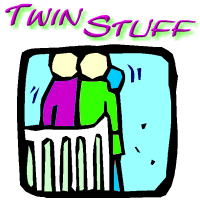 The below links are web sites that, for one reason or another, are important to us. The second web site in the list will take you to our very favorite "cowboy" of all time, and one heck of a great guy, Robert Fuller of Wagon Train and Laramie fame. Follow this link to read a short story 'bout how we came to be fans of Mr. Fuller. The other links below, lead to trails that tie us to Montana and the beautiful country we live in.
| | | |
| --- | --- | --- |
| Located in southwest Montana - North of Lovell, Wyoming | Official web site | |
| Glacier Nat'l Park | Appaloosa Horse Club | Lincoln Co. Home Page |
| | | |
| --- | --- | --- |
| Kootenai Nat'l Forest | Montana Fish & Wildlife | Yellowstone Nat'l Park |
| National Bison Range | Kootenai Country Visitor Guide | Horse related sites |
Get to know us
Trailhead | About Us | Ol' Bake | Twin Wranglers | On the Trail | Tales of the Twin Wranglers
Raising an Orphan Filly | Training Philosophy | Photography | Promotional Photography
Greeting Cards ** Fine Art Photography
Calendars
(Dogs, Cats, Horses, Cowboys, Rodeo, and Robert Fuller calendars)